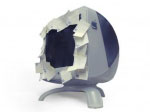 Writer's block occurs in almost every writer for a variety of reasons. It happens all the time in some writers, and hardly at all in others, but it is known to put a damper on the progress of an author. There are, however, ways to cure writers block even for the student who gets this "illness" before every big paper.
STORY STARTERS
Depending on the nature of your assignment, story starters may be of some help to you. Since we are in the age of information technology, you can just hop on the Internet and Google the phrase "story starters" to help you with any of your creative writing assignments. You will come across a wealth of resources to assist you with that short story. Let your imagination flow from there.
RESEARCH
If you are doing a research assignment or something that is based on facts, then it is best to review all of your researched notes first. You usually need a catchy opening paragraph and this is typically when a lot of writers catch the block. You can usually start with one fact or statistic and then start writing. In most cases, just write anything and when you are finished writing your paper, you can go back and edit your opening. By then your writers block may have been unconsciously cured and writing that first paragraph will be easier to compose.
ROADBLOCKS
Some students catch writer's block in the middle of their paper. It happens all the time: you are writing your paper and making progress and then out of nowhere you are stuck. You do not know where to go with your ideas and you start to get frustrated. If this happens, then it's a good sign that you need to take a break from your assignment and clear your mind a little. Go have a cup of coffee or a snack. Then review your notes and ideas and then head back to your paper. You should be able to sail right past that roadblock and finish your assignment.
OTHER TIPS
When in doubt, just write down the first thing that comes to mind. It does not have to be formatted correctly or be perfect grammar, just write it. Take that idea and then try to write based off of that first idea.


Try not to get too frustrated or start worrying excessively about your writer's block. Doing this will only make it worse. Instead, just relax and clear your mind to allow freethinking.


Eliminate distractions. If you have writers block, then watching television or listening to the radio will only distract you and prolong your illness. Try to do your writing in a quiet area such as a library or coffee house and do your best to eliminate everyday distractions.
It has been said that writer's block is an unknown occurrence, with no real cure. It is basically something that happens to a lot of writers at different times, but for various reasons. Do not let writer's block overcome you; instead be armed with your own tips and tricks to conquer it, if and when it arises.