How to Party Like a Rockstar: Spring Break in Florida.
There are very few things that top Spring Break for college students. Maybe Top Ramen Noodles but I am not even sure that can match up to the goodness that is Spring Break. Unquestionably when people think of Spring Break, Florida is one of the first destinations they think about. With good reason too, from Miami Beach to Panama City, Florida is truly the place to be for Spring Breakers looking to have a good time. Listed below are some prime locations in Florida where a good time is guaranteed when it comes to Spring Break.
Letís start this off with one of the most known about hot spots anywhere, Daytona Beach.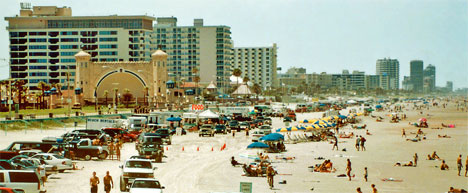 With endless beaches and sunny days accompanied by warm water almost year round, it is no wonder that students flock to this tropical paradise every Spring Break. Whether you are looking to hit the sand or even do some surfing, Daytona Beach is the place to be. At night, you can enjoy the parties and the babes if thatís more your style.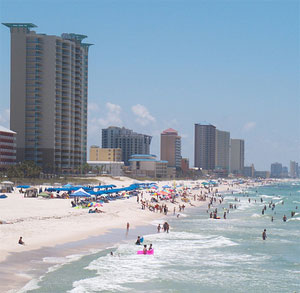 Looking for something a littleÖ sweeter?
How about 27 miles of sweet beach? You can only find this in Panama City my friends. Temperatures are in the high 70ís all day and a cool breeze calms the area at night. This is a perfect paradise for those looking for a more tranquil sandy beach spring break experience. Do not be fooled though, the parties still happen here and they can get pretty crazy. You have been warned.
Last but not least, let's not forget about the crazy nightlife going on in Miami Beach and South Beach.
Both places turn into one of the liveliest scenes you have ever seen at night. Nightclubs open, the dancing goes on until early in the morning the following day, and the ladies are scorching hot.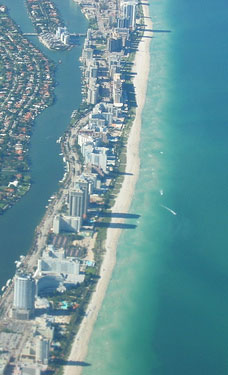 Generally a college spring breaker would spend the day soaking in the rays in the beautiful crystal clear beaches and possibly enjoy some recreational activities such as Jet-Skiing or Parasailing. Actually, anything that has to do with water besides surfing can be done here in Miami.

At night, the party really comes to life as the high-end nightclubs ignite the scene and South Beach and Miami Beach starts getting crowded. The parties are crazy and possibly some of the biggest around. Simply put, this place is not for the faint of heart. On the other hand, if you are looking for a great time during spring break, Miami is the place to be. Make sure to look spiffy when you hit the night scene and donít tick off any of the bouncers around here and you should be just fine. Itís all part of a dayís work here in Miami.

Now you know some of the best spots to have a good time here in Florida. All that is missing to get the party started is you. As always, please be safe and drink responsibly.