Flip Cup is one of the better drinking games out there. What makes it better than beer pong, is the fact that it involves a team of players, usually up to 5 or 6, rather than the one or two people in a beer pong team. With more players involved, it enhances the competitiveness of the sport. See, in beer pong, one player can carry a team to victory, while each member of a Flip Cup team must produce in timely fashion to ensure victory.
Now many of you College beer drinking enthusiasts may be aware of the national beer pong championships that take place every year, but did you know that such championship exists for flip cup as well?
Well sure enough, a Flip Cup National Championship is coming soon!
This October in New York, 64 Flip Cup Teams will participate in the 2008 World's Largest Flip Cup Tournament.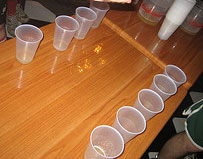 Flip Cup Tournament Details
Time: October 11, 2008 at 1pm
Team: 6 players per team.
Cost: $30 per player, $25 per spectator.
Tournament Play: Two teams will compete in a best of 7 series to determine the winner who will move on to the next round of the tournament.

This is the first-ever professionally organized 64-team bracket flip cup tournament in the nation. FlipCupGuys.com created the World's Largest Flip Cup Tournament to unite the Flip Cup nation. Flip Cup Guys have a strong presence in the northeast, with monthly tournaments in NY and NJ (and soon to include CT, MA, and PA in the next few months).

Flip Cup Guys are the first to do this on a national level. There have been other tournaments across the US, but none as huge as this event. Teams will be showing up from all over from as far as Canada, California and Las Vegas.

There will also be both a male and female survivor tournament at the event. These tournaments are "every man/woman" for them self. How this works is the last person to flip each round is eliminated, until it goes from 20 or 40 people to 1. The winner is crowned the Survivor Champion.

Prizes will be available, which will include products from BPONG.com and Port-O-Pong.

Registration is now open, check it out at FlipCupGuys.com.