College is all about mastering the art of multitasking. The best way to tackle this is to draw up a weekly plan of attack. To do this you need to create some sort of schedule to follow and have a study plan.
Setting up a Weekly Study Schedule
The key is to get it down in writing so you get yourself on a game plan for the week ahead.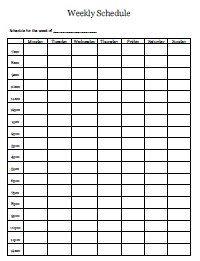 Do this by dividing an entire week into hour-long segments and then filling in each hour with a specific activity. Breaking up parts of the day into a schedule and assigning certain work to certain times reduces the chance of procrastination and keeps you on auto-pilot for the week.
You can create your study plan using the weekly schedule worksheet we created for you.
Creating your Weekly Schedule
The first step is to block off the times you will be in class. Go through each day and mark in all your classes in their respective time slots.


The next step is to add in all other academic and social commitments for the week. This includes labs, office hours, discussions, study groups, and so on.


Mark in the times that you will be eating meals, working, exercising, in meetings or appointments, and any social functions you have planned.


Now that you have a better idea of the open times in your schedule, you can start scheduling in your study time. Decide how much study time you will set aside for each class. (A good rule of thumb is to allow for 2-3 hours for every hour spent in class.) Designate specific hours in the week for study time, reading, writing, and review. On your weekly schedule, mark what tasks you will complete during these study time slots and the order in which you will complete them.

Utilize hour breaks in between classes: Squeeze in study hours in short periods of free time found throughout the day, as opposed to waiting to do everything at the end of the night. Evenings are often an ineffective time to study.

When creating your study plan, think about the times when you are most productive. If you find it easier to study in the morning or have a hard time concentrating at night, schedule as much of your study time for the mornings as possible.

Studying is more effective when done in shorter regular sessions rather than long sessions, so don't schedule too long of a study period for a single subject. Give yourself short breaks.


Leave some time blocks open for personal use or free time. This is where you can spend time socializing or connecting with family and friends.
Bonus Tip: Schedule time for review after your classes. Go over your class notes. Research has shown that reviewing new material within 24 hours of hearing it increases your retention of that material by about 60%. Schedule this review time immediately after your classes whenever possible. Use this time to edit and summarize your notes.
Effective Study Techniques
Tackle harder work first. When you are fresh you will do better work. The problem with to-do lists is that the easiest tasks on the list usually get done first. Instead, do the more important tasks at the beginning when you are full of energy to work through and complete the task.
If you're serious about getting work done, turn off gadgets and other technology: cell phones, email, texting, Facebook, Twitter, etc. Use a blocker if you have to.
When writing a paper, use a word program that blocks all surrounding distractions on your computer. It removes all the screen clutter so you can clearly focus on your work.
Consider using the Pomodoro Technique for getting things done more efficiently. This is where you set a timer and work on one specific task for 25 minutes straight, then take a short break.
Scheduling Large Projects
The key with big projects is to get started on them earlier than you think you need to.
Get started on long-term projects by breaking it into a set of small manageable steps. This way it won't hang over your head as one large looming project. This is a method some call the ESS method. Breaking down a large project into smaller tasks makes the assignment seem more feasible and you won't put off beginning the project as easily.
Tips for Creating a Weekly Schedule
Pick a day of the week to set your weekly schedule. The most logical day to do this would be on a Sunday. Setting it on Sunday gets you mentally prepared for the week ahead. Get in a habit of creating some type of schedule every week.
For best results, use both a semester and a weekly calendar. Review your syllabus and note important dates and assignments. Easily print out both monthly and weekly calendars here.
Of course, creating a weekly schedule may not be necessary if you are already using a digital planner (like Google Calendar, for example), but some find better success in planning by physically writing down on paper what they need to get done for the week ahead.
"The key is not to prioritize what's on your schedule, but to schedule your priorities." - Stephen Covey
When it comes to landing that coveted job after college, you are told countless times you need to be networking. You are told to network, but are unsure of who to network with.
Where do you start?
You don't just go up to someone you don't know and ask for a job. Instead, establish connections with professionals in the field by going out and seeking their advice, insight, and opinion. Deep down people generally will want to help by providing their advice, especially when it comes to an aspiring college student such as yourself.
"It's all about who you know"
This saying has been used as an excuse by frustrated job seekers for years. While true to an extent, you need to take the initiative and get yourself in front of the right people. This is how you get your foot in the door. Build your network and get valuable career advice by conducting an Informational Interview.
What is an Informational Interview?
An informational interview is a meeting in which you set up with a professional to ask for career and industry advice.
In an informational interview, you become the interviewer; asking questions and finding answers about a certain career, directly from the source. It's about gaining knowledge and networking to gain contacts in the industry you can reach out to for guidance.
"Best results are often achieved well before you need a job, by consistently networking so that when you find yourself job-hunting you have a large network to work with." - Erik Qualman
The term "informational interviewing" was invented by Richard Nelson Bolles, author of the best-selling career book, What Color Is Your Parachute? The author refers to the process as "trying on jobs to see if they fit you." Check out the book here.
Setting up an Informational Interview
Make an appointment with a professional in the community to gain insights into the prospective career you are seeking after college. Here you'll be able to get an insider's point of view in an information gathering session. No one else will be able to give you a better sense of a career than someone currently working in that position.
"If you want to go somewhere, it is best to find someone who has already been there." - Robert Kiyosaki
Who to connect with:
What is your intended career? What are you considering? Find a professional in this career field you can meet with to conduct an informational interview. Identify companies that align with your career and find individuals within that organization who hold positions similar to the ones you are seeking. Maybe you already have a professional in the field in mind.
Where to find people to interview:
Access the alumni database to find a contact in the industry.
Ask the career center if there is someone they can recommend.
Tap one of your connections on LinkedIN.
Have a friend, co-worker, or professor refer or introduce you to someone in the field.
These meetings are usually set up through personal referral or an initial phone call or email. If you don't like the idea of cold calling or emailing, you could set this meeting up in-person at the next career fair.
Don't be shy. Have the guts to take the initiative when it comes to your career. Don't be afraid of someone saying no.
Whether or not you know someone in the career field you are considering, feel free to reach out, ask questions, and get advice. It's always great to have some type of mentor who can help lead you down the right path.
Remember: People will want to help you if you take the time to reach out in an honest way.
Planning out a Informational Interview
Schedule a 15-20 minute in-person or over the phone informational interview with a professional in the field of work you hope to get into after college. This meeting will help ensure you're on track for your career and help you decide if the specific job is right for you.
Prepare for an informational interview by coming in with a list of questions specific to the job.
Example Questions to ask in an Informational Interview:
What's a typical day at work like?
What steps would you recommend I take to prepare to enter this field?
How relevant to the job is your undergraduate major?
What skills are most critical to have for this position?
What aspects of the job do you find most challenging or fascinating?
What are some positives and negatives of this career?
What kind of background or training is desirable for this work? Are there certain classes or training programs you would recommend?
After the Interview
Pro Tip: A key question to ask at the end of the interview is, "Do you know anyone else I can talk to about this career?" This gives them a chance to refer you to other influential professionals in the field and helps you expand your network.
Don't forget to follow up after the meeting with a thank you letter or email. This helps solidify the contact and honestly thanks them for taking time out of their day to meet with you.
Benefits of doing an Informational Interview
Informational interviews give insight into what it's like working in your prospective career. You obtain a great deal of information about your career field and the skills needed to do the job effectively. They can even lead to further career experiences, like job shadowing and internships, or even a real job offer.
An informational interview is not a time to ask for a job. Interestingly enough, one out of every 12 informational interviews results in a job offer. These meetings also help you get your foot in the door for any job openings in the future. By conducting informational interviews, you can tap into the hidden job market (jobs openings that are unadvertised).
Because the vast majority of jobs are never advertised, you will uncover job openings that never make it to the job-board posting, want ad, or employment office.
Since you're not actually interviewing for a job, the experience will be less stressful and you'll be able to relax and focus on getting the most out of the informational session.
It's a learning experience. Not only does it give you a deep understanding of what many professionals do on a daily basis, it's a way to earn some great business contacts. Talking and meeting with professionals can also enhance your interview skills; this practice gets you comfortable in those types of situations.
"The richest people in the world look for and build networks, everyone else looks for work." - Robert Kiyosaki
Informational Interview Resources
If you need additional guidance or further direction on setting up your informational interview, find more here.
When it comes to having a successful college experience, the path for every student will be different. What works well for one student, may not work for another. But by following a few basic core principles, you can set yourself up for a fulfilling and successful time at college.
You can follow a countless number of college tips, but we've narrowed it down to the most important ones for those looking to get good grades and get the most out of college.
We're not saying success is limited to following a dozen or so tips, but follow most of the advice listed below and you should find yourself doing quite well in college. We'll keep it short and simple, but feel free to follow the links provided within each tip to dive deeper into each topic.
12 Habits of Successful Students
Successful students set short-term and long-term goals. Setting goals and reaching them really gets the momentum going on success. Having goals gives you a sense of direction in your college journey and pushes you to go forward when you're not sure what lies ahead. Write down your goals: set long-term goals, set short-term goals, set short-term goals to get to your long-term goals.


Successful students stick to a weekly study schedule. College is all about mastering the art of multitasking. To do this you need to create some sort of schedule to follow and have a study plan.


Successful students know to use their biggest resource: The Professor. They do this by taking advantage of office hours. Students who utilize office hours often do better on exams and papers, are more satisfied with their classes, and feel more connected to their college, classroom and professor.


Successful students use effective study techniques and note-taking skills. This allows them to study better and more efficiently.


Successful students are active in activities outside the classroom, being involved in things like college clubs and intramural sports. Contrary to popular belief, extracurricular activities do not detract from academic performance; instead, they increase students' overall satisfaction with their college experience and contribute to learning.


Successful students get the most out of college by taking advantage of resources available on a college campus. They use resources, such as the library and career center, to their full advantage.


Successful students take on a balanced course load. They choose classes that vary in both size and difficulty.


Successful students go to class and participate. The most successful students sit in front and are involved in classroom discussions. Ask questions and contribute. It's this kind of class participation that molds you into a better student (and gets you better grades).


Successful students use study tools to their advantage.


Successful students are prepared for exams. Knowing exams are a large percentage of the overall grade, successful students know how to properly study and prepare for exams.


Successful students form study groups with their peers. Students typically learn more when they study together in small groups than they do studying alone. By studying with others, you learn better by teaching. When you explain how to do something to someone, the material gets reinforced in your memory. The teaching benefit works the other way around too: You can seek guidance from your study group. If you don't know something or if something is unclear, a fellow student can explain it to you.


Successful students get proper sleep. When it comes to college, you need to be well-rested, healthy, and mentally ready. The amount of sleep you get has a major impact on your academic performance. A sharp brain starts with getting proper sleep.
A great commencement speech not only inspires graduates, but audience members as well. A speaker may not have all the answers, but one with the right words can light a fire inside of all of us and push us to our potential.
So whether you're a fresh college grad, someone stuck in a career rut, someone who could use a little direction in life, or simply someone who likes to listen to motivational speeches, we present these popular commencement speeches from various college graduations.
Steve Jobs encourages graduates to find what they love and to not settle. "Sometimes life hits you in the head with a brick. Don't lose faith." There is meaning and reason behind everything; you have to trust that somehow the dots will connect in the future. Find what you love. Follow your curiosity and intuition. Trust in your gut.
In David Foster Wallace's commencement speech "This is Water," he is referring to water as what's around us. He encourages listeners to look at things from a different perspective. Be less arrogant. Have more critical awareness for yourself and your surroundings. Be more aware of what is going on around you, especially when doing some of the more mundane tasks in life like picking up groceries after a long day of work. These are times when you can come across the most important realities in life. Use these times to think. "The world as you experience it is there in front of YOU."
Randy Pausch, a computer science professor at Carnegie Mellon, was told he would only have 3-6 months left to live because of pancreatic cancer. He gave this speech at month nine. Because he knew his time was coming to an end, the focus of his speech was about getting the most out of life. "It is not the things we do in life that we regret on our deathbed, it is the things we do not." So do the things you want to do. Follow your passions and live life to the fullest. Don't let anything get in your way. (Randy passed away two months after he gave this speech.)
"...whether you fear it or not, disappointment will come...The beauty is that through disappointment you can gain clarity, and with clarity comes conviction and true originality."
Conan injects tons of humor into this speech, cracking jokes at Dartmouth and other Ivy institutions. He tells graduates to be patient because the job market is tough out there. Sometimes life isn't fair. In the speech he references how things didn't work out with him on The Tonight Show. What he learned is that when things aren't working out, don't be afraid to try new things. "It's not easy, but if you accept your misfortune and handle it right, your perceived failure can become a catalyst for profound re-invention." Work hard, be kind, and amazing things will happen.
Oprah encourages graduates to be themselves and not live to other people's expectations. Learn from your failures: for every bad experience you go through, rather than getting down on yourself, think of what you can learn from the experience. In her speech, she touches on the meaning of life: to be truly happy, you have to give something back.
Begin your life today.
Mitch Thrower advises graduates that life is not a destination, but a journey. "Life doesn't start now. We've been living it all along." Too many people wait to begin their lives. Don't hesitate, start today, and on this journey, attempt to put back more into life than you take out.
Lisa Kudrow's commencement speech touches on the uncertainty and crossroads that lie ahead for the graduates. Kudrow is one who believes everything in life happens for a reason, even the bad things. "When one door closes, another always opens." That's her way of looking at life. Always follow your inner voice. That's how she went from biology researcher to actress.
The Fringe Benefits of Failure, and the Importance of Imagination.
The Harry Potter author talks of how failure enabled her to become successful. Had she succeeded at anything else, she may not have found the determination to go on and write novels. You will fail at some point, it's how you pick yourself up and overcome your setbacks that makes you stronger and shows you're a survivor. "It is impossible to live without failing at something, unless you live so cautiously that you might as well not have lived at all – in which case, you fail by default."
In a graduation speech full of humor, Steven Colbert expresses that as your life goes on, your dreams will change. If something doesn't work out, something else will. "Life is an improvisation. You have no idea what's going to happen next and you are mostly just making things up as you go along."
In her commencement speech to Tulane graduates, Ellen tells of how she was completely lost after getting out of school. She had no plan and no idea of what she wanted to do. It wasn't until a tragic event happened in her life where she started asking herself questions and thinking, and there on finding her true path in life.
While she had found her true calling, she found the journey was not easy. When she came out, she lost her career, yet still managed to find a way to pursue her passion. What she learned is as you grow your definition of success changes and you discover more about who you are. It's about finding out who you are and being yourself, not living to other people's expectations. You need to be true to yourself. Live with integrity, don't try and be something you're not.
Life isn't worthwhile unless you take risks.
Denzel talks about the idea of having something to fall back on and how he disagrees with the notion. "If I'm going to fall, I don't want to fall back on anything, except my faith. I want to fall… forward." He encourages graduates to take risks and take chances. "You will fail at some point in your life. Accept it." Life will never be a straight path. Every failure is a learning experience that gets you one step closer to success. If you don't fail at some point in your life, you're not pushing yourself hard enough. You may have all the training and talent in the world, but do you have the guts to take risks? Do you have the guts to push yourself as far as you can go?
To see what he means about taking risks and being willing to fail, Denzel recommends watching the character he plays in the movie "Philadelphia".
In her commencement speech at Barnard, Meryl Streep discusses her experiences in acting and passes on tips and inspiration for graduates to achieve success in the next part of their lives. She encourages graduates to put empathy in their work for greatest success.
Donning a gray Carnegie Mellon sweat suit, Bill Cosby shares the story of doing his first major comedy show. It was supposed to be his big break and he totally tanked it. He let the fear of the crowd and the fact that he might not be good enough get to his head. Luckily he was given a second chance and he blew the audience away. His point of the story: "Don't talk yourself into not being you at any time." You need to be sure of yourself and be prepared.
"How will you keep our democracy going?"
In his commencement speech to the class of 2010 at the University of Michigan, President Obama encourages graduates to keep an open mind, to actively seek out information that challenges us, and to listen to different viewpoints from various backgrounds to better understand where others are coming from. In doing so, you may learn something new. He encourages participation in democracy: "When we don't pay close attention to the decisions made by our leaders, when we fail to educate ourselves about the major issues of the day, when we choose not to make our voices and opinions heard, that's when democracy breaks down."
In his commencement speech at ASU, President Obama congratulates graduates on their journey but warns them the road doesn't end here. "No matter how much you've done, or how successful you've been, there's always more to do, always more to learn, and always more to achieve." You'll have to constantly adapt to the changing economy. You have to keep gaining new skills to ensure you are successful. He encourages graduates to follow their passions to success. To do what's meaningful to you, to help others, to make a difference in this world, and not measure success in the amount of materialistic things you have.
Your resume is a marketing tool to sell you as the best candidate for the job. It's best to tailor it to the specific job you are applying for, only put the most complimentary stuff on it, and always ensure potential employers have the most up-to-date info on you.
A resume you submit in paper form or as an email attachment can get outdated very quickly. What's the best way to ensure job recruiters always have access to your most up-to-date resume? Make it available online on your own personal website.
First, you'll want to update your resume.
As the year has progressed, you should have some significant material to add to your resume. Update your resume: If you've volunteered, interned, or joined a new club since you last updated it, add it in.
Finish building it up and then take it in to the career center for feedback.
The career center can help you craft the perfect resume. See if they have any upcoming resume workshops that can give you a chance to get your resume reviewed so you can further fine-tune it. You can also set up a meeting with someone in the career center and have them look it over and give you some pointers. There also may be someone in your major's department who can do this as well, who may have better experience creating resumes for the specific field of work you are looking to get into.
Other Resume Tips
When summarizing previous work history, make sure you are listing what you accomplished, rather than sounding like a job description. Highlight your contributions: talk about your performance on the job. What did you contribute? How did you go above and beyond the basic job duties? Use strong action verbs.
Let your personality shine through on your resume. While relevant job skills are important, employers like to see you have other interests as well. Don't be afraid to list leadership positions, hobbies, or other things you're passionate about.
Use fonts that read well and look good in print or on screen, depending on the resume format you are submitting.
When emailing a resume as an attachment, send a PDF version to ensure the formatting stays the same on any computer.
Keep the resume to one page if possible.
Getting your Resume Online
Are you a real go-getter? Then this challenge is for you. It'll take you about an hour or so to complete, but it will be well worth the effort and will really come in handy for your future job search.
Challenge: Create a personal website to post your resume.
When it comes to showcasing yourself online, a LinkedIN profile may be enough for some; then there's an about.me page for the creative types, but why not take it one step further with your own website?
Having your own personal website dedicated to hosting your resume is a great way to stand out and have a lasting impression on employers. Plus, the feeling of creating something and putting a live page up on the Internet for all to see is a thrill in itself.
Offering a good-looking resume on your own website rather than on a sheet of paper shows you're ahead of the curve. Remember, it's all about separating yourself from the hundreds of others who will be out there competing for the same job. How serious do you want to be taken when it comes to landing your desired job? Think about it: How many of your friends or classmates have a website for their resume?
It's going to take a small investment on your part, about $6-$9 a month, (but you can get the first month for a penny when using the coupon code "1CENT" over at HostGator.com) a relatively small price to pay for what will really stand out in an innovative way.
Having your resume available online is great for the job search. Rather than sending attachments via email for jobs, you can simply email the URL of your personal website where the resume is posted. Also, you'll be able to easily link to it from your online profiles, post it on business cards, and in any other correspondence you have with job recruiters. By making your resume available on the Internet you have the potential to reach an unlimited number of people.
Here's a quick guide on getting an HTML version of your resume up on your own website.
Create an online resume in 5 easy steps
Having a personal website dedicated just for your resume shows you're serious about your career. This just speaks of professionalism and determination. You want your resume to be posted at firstnamelastname.com, something easy to remember that you can put on a business card.
Note: This short guide is designed as a super easy way of getting a nice looking resume up on your own website with the non-technical user in mind, without any knowledge of coding. After you get it up and running, you can expand your knowledge and the depth of your website at your choosing.
The steps outlined here should be able to be completed in about an hour and will cost you just a penny to get started. Give it a try!
Steps to take:
1. Go to HostGator.com
This is where your online files will be hosted so they can be displayed on the web.
Select the 'Hatchling Plan' under web hosting plans. This is just the basic plan, and is all you will really need. It should cost you just a penny for the first month when using the coupon code "1CENT".

2. Next, you'll have to pick your domain name. You want your own dot com here, preferably your first and last name if available: firstnamelastname.com.
3. Once you have the account setup at HostGator, go to CVMKR.com.
CVMKR.com helps you create an online professional-looking resume that you're able to save in multiple formats (PDF, HTML, etc.) In this short guide, we'll be saving the resume you create as an HTML file to later upload to your website.
Fill out the forms on CVMKR.com as complete and accurate as possible.
Upon completion of creating your resume on CVMKR.com, click the 'Save & Download' button and save the resume in HTML format.
4. The HTML file of your resume you just downloaded should now be saved to your computer as My_CV.html. Rename this file to index.html.

5. Now upload this file to your website by using the File Manager in the control panel of your account at HostGator.com.
This tutorial gives an explanation of how to go about uploading files to your HostGator account. If you ever get stuck, the people over at HostGator offer excellent customer service if you have trouble getting your page up on the web.
Anytime you need to update your resume, you can simply log into CVMKR.com, make your changes and hit the 'Save & Download' button again. (Note: every time you make changes to your resume on CVMKR.com, you'll have to save the resume as an HTML file and upload it again to your website.)
Upon completion of these steps, you should now have your own website with your resume publicly available to share with job recruiters.
They entertain crowds with their school spirit and antics. They pump up fans loud enough to help sway momentum in their team's favor. They pose for thousands of fan photos. But what else goes on in the secret world of a mascot?
Here we take an inside look at some things you might not know and see just what it's like to be a college mascot.
1. The costume smells pretty bad
It's gross: anytime you're in a mascot costume, you can expect to be sweaty, stinky and just feel nasty. The suit is made out of heavy material so the temperature inside gets a good 20-30 degrees warmer than the surrounding environment. This leads to horrid conditions inside. It's possible to lose up to 10 pounds of body weight in sweat during a game. Any clothes worn under the suit typically get soaked all the way through.
Being a mascot may be fun, but it's not easy. You run out of energy very quickly when it's hot and you're lugging around a 25-pound costume. It gets dry-cleaned regularly, but when you sweat that much into an air-constricted suit there is no way it's going to smell good. The best way to describe it is to think of a bad mix of BO and Febreze.
2. Mascots get a full-ride scholarship
Some will and some won't, but most Division 1 mascots get a full-ride scholarship. It largely depends on how prominent the athletic program is. Even the smaller schools will cover a large percentage of tuition.
3. They get excessive perks to the job
Mascots not only get to hang out and party with the cheerleaders, they get access to other perks as well. NCAA athletes get treated like kings. Since the mascot travels with the cheer team, they get treated the same way. We're talking chartered jets to and from tournaments, fancy hotels, free food and meal stipends, and lots of free clothes and team gear. The athletic department spends more money than you think.
4. They go to Mascot Camp
Mascots go to summer camp. Schools will send mascots to these training camps to prepare and develop mascots for the coming year. Mascot camp is a 1-2 week summer program where students from all over the nation go to learn mascot skills. Apparently this is a time where mascots like to go crazy and party as well.
"I hear that when the B1G has their meet up of cheerleaders and mascots, it gets pretty insane." – former college mascot
"The best part of mascot camp was playing dodgeball in costume with all of the other mascots." - Mascot camp attendee
5. Most Mascot Fights are Pre-Planned
Most mascot fights you see are orchestrated. Before a game, mascots will get together and plan out mini-skits with the intention of entertaining the crowd. Sometimes mascots will have to share changing rooms and while hanging out during this time some like to arrange a "fight" to get both fan bases fired up. An actual fight would lead to the student being kicked off the mascot team, banned from all athletic events, and possibly suspended.
Not planned: fights started by the Oregon Duck and the Ohio Bobcat.
6. The worst time to perform is when hungover
The worst time to wear the suit and have to perform is when you are experiencing a hangover from the night before. While mascots aren't allowed to go to parties with the suit on, they still roll with a crowd that likes to have a good time.
When you are hungover, you are dehydrated and considering how much you sweat while wearing the costume, your body loses more water. This just leads to more problems and amplifies the hangover. It gets so bad, you nearly pass out.
"My school is a big party school so I've had to make a lot of miserable appearance real hungover. Those are the worst." – former college mascot
7. There are multiple mascots at your school
Mascots carry a demanding schedule. It's a very time-consuming job. Mascots do more than just sporting events as there are many off-the-field requirements at special events both on and off campus. You can even hire the mascot to perform at your next event: weddings, parties, etc. Sometimes mascots are even hired to work with psychologists to help children overcome fear of costume characters.
There's no way a single student could carry the responsibility of all these mandatory events, therefore, some schools will have 4 or 5 students on the mascot squad. All members of the mascot squad share the same suit (Mascot suits are expensive). One mascot costume can even be shared by up to five people on the same day! (This really adds to the smell factor. Think of multiple sweaty dudes sharing the same suit on game day…or don't.)
8. They strictly maintain a secret identity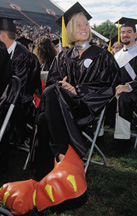 The college and mascot squad go to great lengths to keep the mascot's identity secret. Sometimes only the closest of friends know (sometimes not even them). Students who mascot on game day usually have to resort to lying to their classmates on why they can't make the game by saying they are an athletic intern or manager rather than reveal their true identity as the mascot.
Some mascots will end up revealing their identity at graduation by wearing some part of the costume at commencement. For example, at Virginia Tech, the Hokie Bird reveals his or her identity by wearing the Hokie feet at the graduation ceremony.
9. Going to the bathroom isn't a problem
Mascots have to drink a lot of water to stay hydrated in the sweltering suit. While performing as a mascot, you would think that a trip to the bathroom would be difficult. Actually the costume makes you sweat so much that you just sweat it right out, so a trip to the bathroom while wearing the suit isn't a problem. (You just wait until halftime.) It takes some time because they typically have to take the costume off.
"I'll go through three bottles of water and not have to pee once. You just sweat it all out."
10. They always have to be moving
Mascots are told they always need to be doing something because someone is always watching during games. "Even when you're resting, if you're standing doing nothing you're breaking character," says a former mascot. So much for getting a break in that large, big-headed, sweat-drenched suit.
The field of 68 teams has been announced for the 2013 NCAA Men's Basketball Tournament. Follow along with the tournament by downloading and printing your tournament bracket below.
Download Tournament Bracket (PDF)
<< Start
< Prev
1
2
3
4
5
6
7
8
9
10
Next >
End >>
Results 1 - 7 of 421
Access more useful college info:
Enter your email address to get more tips by email.
On Facebook? Like Us

Related Articles
Get College Tips by Email:
Upcoming Articles:
Most Expensive College Dorms
The 100 Greatest College Traditions
Banned College Traditions
To get these,
subscribe by email
.
Reader Testimonials
"I like the articles that are written here. There are plenty of other blogs that cover being frugal as a student, but you cover stuff that other places don't." -
Sarah E., USC
"I like the fact that you're actually offering interesting, useful information to students." - Pedro M., Harvard
In the News:

Learning Online
Access select online courses:
Recent Articles
Get notified of new articles by RSS feed or Email.
College Guides
| | |
| --- | --- |
| College Admissions | Paying for College |
| Degree Guide | Textbooks |
| College Life | Study Tips |
Compare Student Loan Rates