While searching the web for photos of some of the most beautiful college libraries (See parts one and two), we came across some interesting looking library designs. Among them, here are 5 college libraries that resemble spaceships:
Geisel Library - University of California - San Diego
Middlebury College Library
Hannon Library - Loyola Marymount University
Sherratt Library - Southern Utah University
Sherrod Library - East Tennessee State University
Know of any others? Let us know at This e-mail address is being protected from spam bots, you need JavaScript enabled to view it
In 2009, Playboy announced it would make their ranking of top party schools an annual feature in the magazine. Here in its third year in a row, and 6th time overall in the magazine's 58-year history, the ranking was released today and will be featured in the May 2011 issue of Playboy Magazine (on newsstands April 15). This year's #1 goes to the University of Colorado at Boulder (who was ranked 16th in the Princeton Review ranking).
The magazine's first list, Top 40 Party Colleges, appeared in the January 1987 issue with Chico State taking the #1 spot. Arizona State is the only school to appear in all six of Playboy's rankings.
Best in Class
Also included for the second year in a row is a "Best in Class" list which gives honorable mention to colleges in 18 additional categories. These categories range from "Best Naked Parties" (Yale) to "Hottest Sorority" (San Diego State's Alpha Phi).
Methodology
Playboy party school rankings are determined by Playboy editors along with input from students, fans of Playboy's social media pages, alumni, feedback from Playboy campus representatives at schools across the country, and interviews with countless others. Playboy editors analyzed school's male-female ratios, academics, and the winning percentage of their sports teams, as well as their proximity to beaches, ski slopes and lively music scenes
Playboy's Top 10 Party Schools 2011
University of Colorado at Boulder

According to Playboy:
"You know Boulder is a party school because whenever you tell someone that you went there, the first thing they ask is, "Did you graduate?"

Penn State

According to Playboy:
"Penn State students don't let anything stand in the way of an alcohol-soaked holiday—not even an alcohol-soaked vacation."

Arizona State

According to Playboy:
"Only in Arizona can you have outrageous pool parties in February."

University of Western Ontario

According to Playboy:
"One of the school's dorms became so notorious for partying it was nicknamed the Zoo."

University of Texas at Austin

According to Playboy:
"Austin is known for its stellar nightlife and music scene, and last year it was dubbed the third best city for singles."

University of Wisconsin - Madison

According to Playboy:
"And then there are the epic weekend-long parties—Halloween and the Mifflin Street Block Party being the two standout events. Past celebrations got so big, riots broke out."

University of Georgia

According to Playboy:
"Football, sorority girls and drinking are the pillars of SEC life, and UGA reps all three with gusto."

University of Tennessee

According to Playboy:
"This is the only school we know of with its own fraternity boxing tournament — a spring event that occurs amid a weeklong party and draws students from all over."

University of Central Florida

According to Playboy:
"When you put 56,000 college students 20 minutes from downtown Orlando, you end up with an explosive mix of sun, sand and girls."

University of California - Santa Barbara

According to Playboy:
"Every weekend students swarm to parties on Del Playa Drive, and in the spring there's Floatopia, a drink fest during which students lazily raft along the coast. After Floatopia 2009 drew 12,000 people, authorities put the kibosh on last year's event."
"Best in Class"
Basketball Coach we're measuring for a straitjacket: Kansas State's Frank Martin.
Best College Sports Bar: The Swamp Restaurant in Gainesville, FL.
Best College Sports Fan: Wild Bill of Utah State.
Best Late-Night Eats: Capicola-and-cheese sandwich from Primanti Brothers, just off the Pitt campus, with built-in french fries, fried egg and mound of coleslaw.
Best Library: The Library Café and Bar, University of Wisconsin, Madison.
Best Naked Parties: Yale (seriously).
Best Out-of-the-Way Party School: Montana State University.
Coolest Course: University of California, Berkeley's "The Sociology of Seinfeld."
Coolest Facebook Campaign: Jay-Z for Commencement Speaker 2011, Middlebury College.
Coolest Radio Station: DePauw's WGRE 91.5.
Hottest Sorority: San Diego State's Alpha Phi chapter.
Most Coveted Dorm Room: Suite H33 in Kirkland House, Harvard, where Mark Zuckerberg created Facebook.
Most Delicious Mascot: (Tie) Delta State's Fighting Okra and the University of North Carolina School of the Arts' Fighting Pickles.
Most Lucrative Online Degree: None.
New Drink on Campus: 40-proof Adult Chocolate Milk.
Thirstiest Major: University of California, Davis's viticulture (grape cultivation) and enology (wine study).
Wallet Drainer: Sarah Lawrence, the most expensive college in America ($57,556/year).
Worst College Rapper: Chet Haze of Northwestern (Tom Hanks's son).

Previous Playboy Rankings
1. University of Texas at Austin
2. West Virginia University
3. University of Wisconsin-Madison
4. University of Miami
5. East Carolina University
6. Arizona State University
7. Rollins College
8. University of California - Santa Barbara
9. Plymouth State University
10. University of Iowa

2009
1. University of Miami
2. University of Texas - Austin
3. San Diego State University
4. University of Florida
5. University of Arizona
6. University of Wisconsin - Madison
7. University of Georgia
8. Louisiana State University
9. University of Iowa
10. West Virginia University

2006
1. University of Wisconsin - Madison
2. UC Santa Barbara
3. Arizona State
4. Indiana
5. San Diego State
6. Florida State
7. Ohio University
8. University of Georgia
9. University of Tennessee
10. McGill University

2002
1. Arizona State
2. Chico State
3. Rollins
4. Louisiana State
5. West Virginia
6. Colorado
7. Wisconsin
8. Connecticut
9. Kansas
10. San Diego State

11. Georgia
12. Ohio State
13. Iowa State
14. Florida State
15. Colorado State
16. Florida
17. Tulane
18. Washington State
19. East Carolina
20. Michigan State

21. Mississippi
22. UC Santa Barbara
23. Lehigh
24. Vanderbilt
25. James Madison
1987 - Top 40 Party Colleges
1. Chico State
2. Miami
3. San Diego State
4. Vermont
5. Slippery Rock
6. Connecticut
7. West Virginia
8. Plymouth State
9. Mercer
10. Virginia

11. SUNY – Cortland
12. Colorado State
13. Arizona State
14. UNLV
15. Boston U.
16. Central Michigan
17. Southern Illinois
18. Ball State
19. Oklahoma State
20. Central Connecticut

21. Maryland
22. Mississippi
23. Western Georgia
24. Texas
25. MIT
26. Kansas
27. Kansas State
28. Glassboro State
29. Florida
30. Eastern Kentucky

31. Iowa
32. Oklahoma
33. Brown
34. Ohio U.
35. UMass
36. Georgia
37. LSU
38. Missouri – Rolla
39. Reed College
40. Fairhaven College
College isn't easy. One of the many challenges in the path toward a degree is the struggle to wake up and go to that early morning class. Many mornings are spent pondering hitting that snooze button again and deciding if you can afford to skip that 8am class. It's a dilemma that can be very tempting as the reality of a short night hits you.
Lack of sleep is one of the biggest complaints by college students. It makes us fall asleep in class, affects class/test performance, and makes us rely on coffee just to get us through the day. It's enough to make one question the amount of sleep they are getting.
How many hours should students sleep?
It's been long standing belief that we should all get 7-8 hours of sleep, but in reality it all comes down to the individual. There are some who can function just fine on 5-6 hours of sleep, while others require a full 8 hours of sleep. The trick is to find the proper balance by not under or oversleeping.
According to Stanford University, "the average sleep requirement for college students is well over eight hours, and the majority of students would fall within the range of this value plus or minus one hour."
Unfortunately not everyone has that much time to dedicate to sleep on a consistent nightly basis.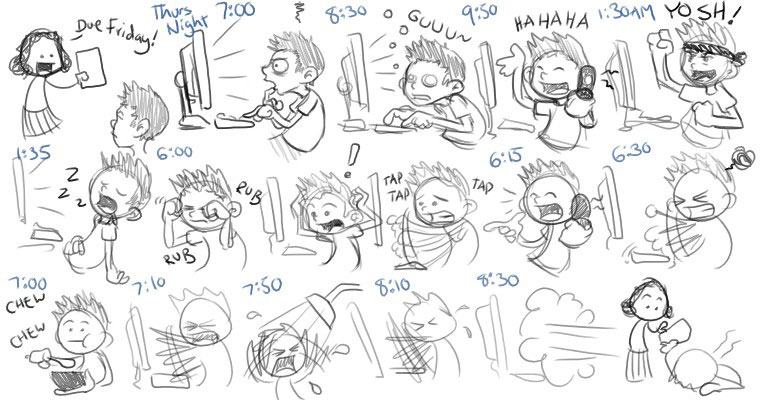 Sleeps impact on Academic Performance
Researchers at UC Berkeley recently found when we sleep we boost our ability to learn. This happens in the part of the sleep that occurs just before we reach the deepest NREM sleep phase and the dream state known as REM sleep.
"A lot of that spindle-rich sleep is occurring the second half of the night, so if you sleep six hours or less, you are shortchanging yourself. You will have fewer spindles, and you might not be able to learn as much," claimed Bryce Mander, a post-doctoral fellow in psychology at UC Berkeley who led the study.
Researchers said evidence that brain waves during the latter part of the sleep period promote our capacity to store fact-based memories raises the question of whether taking early morning classes is optimal for learning. "This discovery indicates that we not only need sleep after learning to consolidate what we've memorized, but that we also need it before learning, so that we can recharge and soak up new information the next day."
Sleep not only refreshes the mind, but can make you smarter. The more hours we spend awake, the more sluggish our minds become. Therefore, pulling an all-nighter, a common practice at college during finals week, decreases the ability to learn new facts by nearly 40 percent, due to a shutdown of brain regions during sleep deprivation.
Knowing about sleeps impact on academic performance motivated Stanford to create a sleep and dreams class and led colleges like Duke to eliminate 8am classes back in 2004. For those not lucky enough to get to sleep in, there are a few tricks you can do to help you become an early riser.
What about naps?
Naps are great. While over napping can screw up your sleep schedule, power naps actually work. Naps under one hour long can dramatically boost and restore brain power. Anything longer can make you feel more tired when you wake up. Even a 20 minute nap will greatly benefit anyone who feels they need a recharge as it will improve overall alertness, boost mood and increase productivity. Just try not to nap too late in the day. If you nap early enough in the day, it shouldn't affect your normal sleep schedule. Additionally, taking a mid-day nap when you're feeling fatigued will be better for you than any form of caffeine you plan to intake.
Oversleeping
Over sleeping causes people to suffer from sleepiness throughout the day. Many people with hypersomnia experience symptoms of anxiety, low energy, and memory problems as a result of their almost constant need for sleep. Oversleeping has also been linked to a host of medical problems, including diabetes, heart disease, and increased risk of death.
The amount of sleep you need varies significantly over the course of your life. It depends on your age and activity level as well as your health and lifestyle habits. No one really needs to be sleeping more than 9 hours a night. It is important to find the proper balance of sleep because studies show that people who sleep 8 hours or more, or less than 6.5 hours, don't live as long as those who get between 6.5 and 7.5 a night.
Alcohol and Sleep
Consumption of alcohol messes with the various sleep states your body goes through at night. While it might help you fall asleep faster, it typically results in a poorer quality of sleep and can cause multiple awakenings in the middle of the night. This poorer quality of sleep leads to a lengthened sleeping time and when sleeping, alcohol in your system disrupts what researchers call "sleep architecture" — the pattern of sleep and brain waves that leaves you feeling refreshed in the morning.
Environment
Sleeping arrangements in college don't really make the most effective sleeping environment. Things can get loud. Trying to get to sleep while all this activity is going on around you can be difficult, but there are things you can do to help block out these distractions (like white noise).
Nighttime Computer Use
For optimal sleep results, all digital equipment (computers, TV, etc.) should be turned off one hour before sleep time. Studies have shown staring at a bright computer screen before bedtime can make falling asleep more difficult.
Chegg.com wants to become a "one-stop shop" for college students. Moving beyond textbook rentals, today Chegg announced it will start offering more services to help college students succeed in school. New tools on Chegg website will make it easier for students to select the right classes, all while helping students save time, money and get smarter.
Basically they will be redesigning the site to incorporate the services of its recent purchase of CourseRank. This will provide Chegg users with class and professor ratings, class grade distribution, and class schedule and planner.
"Chegg is an advocate for college students and is committed to helping them navigate through the challenges of college," said Dan Rosensweig, CEO of Chegg. "With technology changing the education landscape, Chegg is excited to be at the forefront of that evolution by providing students with more services that help them do better in school."
The new site will feature:
Easy, one-click textbook rental or purchase.
Access to course/scheduling data for over 600 schools (1,000 in Fall 2011).
Homework Help:
Textbook solutions for 500 textbooks.
An open Question & Answer system that enables users to give or receive homework help on any question.
Screenshot of the new design:

The ranking for this year's US News Best Law Schools remained very similar to last year's ranking, as the top 5 schools held their spot for the second consecutive year.
The Top 20
1. Yale
2. Harvard
3. Stanford
4. Columbia
5. University of Chicago
6. NYU
7. University of Michigan
8. Penn
9. UC Berkeley
9. University of Virginia
11. Duke
12. Northwestern
13. Cornell
14. Georgetown
14. University of Texas - Austin
16. UCLA
16. Vanderbilt
18. USC
18. Washington University in St. Louis
20. George Washington University
20. University of Minnesota
See more at US News
Top Law Schools based on Specialty
Best Law School for Clinical Training: Georgetown University
Best Law School for Dispute Resolution: Pepperdine University
Best Law School for Environmental Law: Vermont Law School
Best Law School for Healthcare Law: St. Louis University
Best Law School for Intellectual Property Law: UC Berkeley
Best Law School for International Law: NYU
Best Law School for Legal Writing: Mercer University
Best Law School for Part-time Law: Georgetown
Best Law School for Tax Law: NYU
Best Law School for Trial Advocacy: Stetson University


Methodology
Rankings are based on a weighted average of 12 different measures of data collected in fall 2010 and early 2011. View methodology at US News.
Considering Law School?
With a tough job market and law school applications at an all-time high, one has to ask…Is going to law school worth it?
About 45,000 students graduate from law school every year, yet only 30,000 legal jobs are available.
It's numbers like these that are making some people question the whole law school thing. Like the Boston College law student who wants his money back, who believes a J.D. in today's job market is "more of a liability than an asset".
What makes the degree such a liability is the huge amount of debt that typically comes with the degree.
Law School Debt
Law school debt is no joke. It is a burden that typically requires a four-figure monthly student loan payment. This financial burden can be so overwhelming that it can rip apart families and even prevent grads from practicing law.
The average indebtedness of law school graduates typically surpasses $100k. The US News survey also looked at the average debt of each school's law grads.
A Few Notable Rankings:

| | | |
| --- | --- | --- |
| School | Avg. Debt | % with Debt |
| 1. California Western School of Law | $145,621 | 88% |
| 7. Northwestern University | $132,685 | 69% |
| 11. University of Chicago | $127,997 | 84% |
| 13. Columbia University | $126,945 | 77% |
| 14. Cornell University | $126,000 | 80% |
| 17. NYU | $125,169 | 80% |
| 24. Georgetown | $122,319 | 86% |
| 45. Harvard | $114,720 | 79% |
| 77. Stanford | $104,424 | 81% |
| 92. Yale | $98,796 | 73% |
See full list at US News.
Getting Paid
Looking at salary numbers only, the best school if you want to get paid well is Stanford Law School, which topped the Forbes list with mid-career median pay of $236,000, followed by Duke University with $221,000. Yale Law School, which topped the US News best overall ranking, tied at #33 with pay of $159,000. Read more at Forbes or check out PayScale for additional salary numbers.
Other Rankings
The annual Kegs and Eggs college tradition at SUNY Albany is making news headlines this year. The early morning party held on the Saturday before St. Patrick's Day got a little out of hand this year.
City police responded to Kegs and Eggs house parties as early as 7:15 a.m. and found several hundred students in the street drinking alcohol and damaging property. Mobs pushed parked cars into the middle of the road, bashed in their windows, kicked in side panels, and attempted to roll them. Garbage filled the streets as furniture was being tossed from second floor balconies and beer cans and bottles were being thrown by partygoers.
Albany police arrested six people on several charges including rioting, disorderly conduct, assaulting a police officer, and reckless endangerment. More should be in store after multiple videos posted on YouTube have helped lead to charges against 40+ people.
It is an event that will surely put a wedge between town and gown relations in Albany.
The videos below show party revelers destroying cars parked on the side of the road.
Get your 2011 NCAA Basketball Tournament Bracket here!
Download and Print the Men's NCAA Tournament Bracket.
Download the PDF version:
2011 NCAA Tournament Bracket
Download the Excel version:
2011 NCAA Tournament Bracket
<< Start
< Prev
1
2
3
4
5
6
7
8
9
10
Next >
End >>
Results 50 - 56 of 418
Access more useful college info:
Enter your email address to get more tips by email.
On Facebook? Like Us

Related Articles
Get College Tips by Email:
Upcoming Articles:
Most Expensive College Dorms
The 100 Greatest College Traditions
Banned College Traditions
To get these,
subscribe by email
.
Reader Testimonials
"I like the articles that are written here. There are plenty of other blogs that cover being frugal as a student, but you cover stuff that other places don't." -
Sarah E., USC
"I like the fact that you're actually offering interesting, useful information to students." - Pedro M., Harvard
In the News:

Learning Online
Access select online programs:
Recent Articles
Get notified of new articles by RSS feed or Email.
College Guides
| | |
| --- | --- |
| College Admissions | Paying for College |
| Degree Guide | Textbooks |
| College Life | Study Tips |
Compare Student Loan Rates