Is it worth getting a PhD?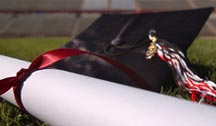 For those who have undertaken a first degree and passed with first class honors many colleges offer the opportunity for students to register as an Mphil student with the option of transferring to doctoral study. Alternatively, those who already have a second degree may decide to register either for independent doctoral studies or for a taught course.
Taught PhDs are a relatively new addition to the international educational structure and so they are not available in all countries. The traditional PhD often springs from a person's work on their second degree, where they found something that they believed warranted further investigation. Generally speaking undertaking a PhD implies that you are undertaking a course of study that will result in an addition to knowledge.
Some people question the benefits of getting a PhD and whether it is worth it. For many PhD's, getting a doctorate usually results in a number of offers of work, some teaching but mostly research. If you don't really like research then it is not worth doing a PhD because research and discovery is what the doctorate is all about.
One of the things that might be seen as a problem when someone is awarded a PhD is the additional pressure to publish. In the academic arena if you don't 'get your work out there' in the form of a book or academic journal articles then your academic career will likely not progress very far. This is much truer in the United States than it is in the United Kingdom, largely because the UK has dropped tenure altogether for those joining the academic community after the late nineteen eighties.
In the States, publication is really a prerequisite of tenure. Once you have a PhD it is possible to obtain work as an assistant Professor but unless you continue to engage in further research and publish your findings it is highly unlikely that you will obtain a tenured position – which is highly sought after. Apart from the fact that tenure almost always means a full professorship, it also means that you have to offend the academic community considerably before you can be removed from post.
One of the problems for new researchers is that it is not always easy to get a tenured position as many of these are already held by academics who have been in post for many years – with some academics remaining in post into their eighties.
Is it worth getting a PhD?
The bottom line is a lot depends on what you want from it. If you see it purely as a means to an end then it may not be worth undertaking. A doctorate should be an end in itself as it demands a lot of time, energy and attention to detail. If the person undertaking the work does not have a passion for what they are writing about this will soon become evident. A PhD has many benefits outside the confines of a career, doctoral research is a personal journey that changes all who undertake and complete it. Unless you are prepared for radical change then don't get involved in a PhD.

Find and Compare PhD Programs near you: