Time management in college: How to balance classes, homework, and a social life.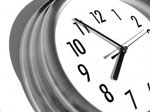 After graduating from high school you have learned everything possible to prepare you for college from Chemistry to Spanish; however one thing that is not taught in high school is effective time management. As a student in college, you have to balance your time between studying, work, classes, and of course a social life. How are you supposed to manage your time wisely without burning yourself out?
Organize Your Activities
In order to keep track of all of your activities, use an electronic device such as an iPhone to stay on top of your schedule. This will allow you to record all of your events, jot down quick notes, and check email when needed. You can set up reminders and other alarms to alert you when you have a paper due or you can even input your work schedule in the calendar. If a PDA is not in your budget, then a day planner will do fine as well. However, these items only work well if you actually use them, so be sure to record your scheduled activities as you receive notice.
Do Not Procrastinate
If you receive an assignment on the first day of class to complete a 20-page paper by the end of the term, do not wait until the night before it's due to complete it. Try to keep up with assigned readings and other class assignments.
Use Every Minute Available
If you commute by bus or train to school, then use that time to catch up on class notes or check up on email. If you are eating alone in the cafeteria, why not read a book or throw in some last minute studying before your test. Your time is precious so try to take advantage of every minute available to you so that no time is wasted.
Have a Social Life
Yes, you are in college to learn, but make sure you let loose and have a social life. Go out to the movies with your friends or attend that party on campus. You can always hang out in your room and call to check in on your parents and friends.
Don't Over Do It
Try your best not to take on more than you can handle. Do not take a 40-hour per week job plus a full load of classes. Make sure you only take hours at your job that you can fit between studying and other university-related activities. Trying to do too much can cause stress as well as have a negative impact on your health.

The trick to effective time management is organization. Make sure you write your goals, assignments, work schedule, and social events down in a planner or input them in your PDA. Do not let the freedom of the college atmosphere overpower you. It is true that you are not under the rules and structure of home, however you still need to be effective in managing your time for ultimate success in college and beyond.